Overview of Services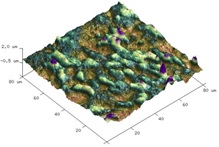 Atomic Force Microscopy (AFM) is a noninvasive technique that reproduces topographic images under physiological-like conditions. Scanning can be performed in air or in a liquid environment. A range of samples, from living cells down to single molecules, can be imaged. AFM is also an attractive tool for studying the dynamics of cellular endocytosis of nanovectors and the systemic response to biological processes. An area of major interest is to determine the stiffness of a sample (Elastic Modulus). The elasticity of the cell membrane can vary between cell types as a function of growth, differentiation, disease or treatment. In addition, non-cellular structures can also be imaged.

The Core uses a BioScope™ II atomic force microscope (Bruker Corporation; Santa Barbara, CA) that requires minimal sample preparation. The BioScope™ II is integrated with a Nikon TE2000 inverted optical microscope to simultaneously acquire bright-field and fluorescence images of samples under study.
Leadership
Location and hours of operation
Hours
Location

Monday - Friday

9 am - 5 pm

Internal Medicine, UT-Health
1881 EAST RD,
room 3SCRB6.3728,
Houston, TX 77054

Links and Resources